The Sintered NdFeB Magnet
has the high remanence, high coercive force, high energy product and high performance. It is easily formed into various sizes, and widely used in mini-motors, meters, sensors, sound device, magnetic suspension system, magnetic transmission machine and iatrical apparatus and other applications. It is prone to corrosion in humid environments, It usually need surface treatment according to customer's requirements to protect magnet. We can offer the coating included: Zinc, Nickel, Silver, Gold-plating, Passivation, Phosphor and Spray Epoxy Resin.
The following table below shows Neodymium in comparison with other magnet materials, for temperature limitation, maximum energy and cost.

Magnetic Material

Temperature -Deg.C

Max. Energy - MGOe

Relative Cost

Neodymium Iron Boron

80 - 200

50

33

Samarium Cobalt

350

30

100

Alnico

500

8

20

Ferrite

180

4.5

5

Magnetic rubber

50

0.8

10
Our most advanced technology:we can make two different series of sintered NdFeB magnets--- ordinary book mold alloy and magnets (HAST NdFeB) based on a strip cast alloy which gives a better chemical stability. We has invested in the production technology enabling to use strip cast material.
HAST NdFeB magnets have higher anticorrosion and can last for 7 days under 120 degree Celsius, 95% humidity and 2atmp with loss of weight less than 3mg/cm2.
Surface Treatments and Dimension Range/Nominal Tolerance of Sintered NdFeB Magnets (Neodymium Iron Boron)
Surface Treatments
| | |
| --- | --- |
| Type | Information |
| Metallic | Zinc, Nickel, Nickel + Tin, Nickel + Copper + Nickel, Gold, Ag, Cr |
| Organic | Epoxy, Nickel + Epoxy coating |
| Temporary | Surface Passivation |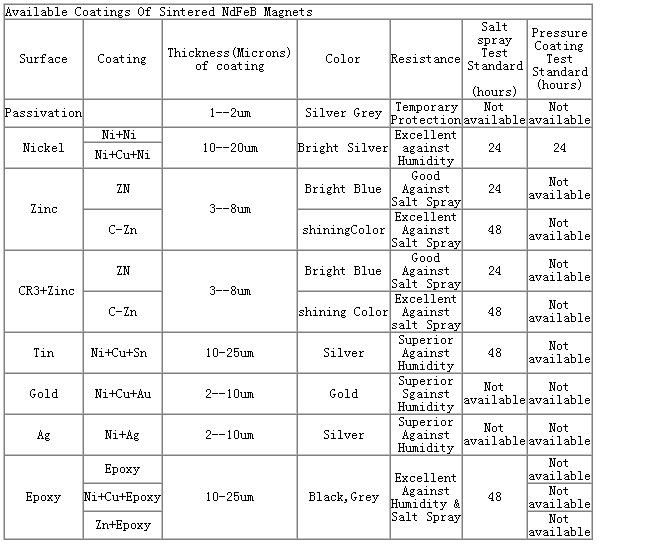 Coating Test Standard of Nickel coating
(1).Salt Spray Test(SST):
Test condition :
Temperature:35C Degree,5% NaCl ,Continous spray for 24 hours.
Test Standard/Criterion:
Coating is good ,doesn't get off,no bubbles,no dots.no rust appear.
(2)Pressure cooker Test (PCT):
Test condition :
121C and 95% RH and 2 atmosheric pressure, test for 24 hours
Test Standard/Criterion:
Coating does not Get off, there are no air bubbles or dots Appear

Magnetization Directions of Permanent Magnets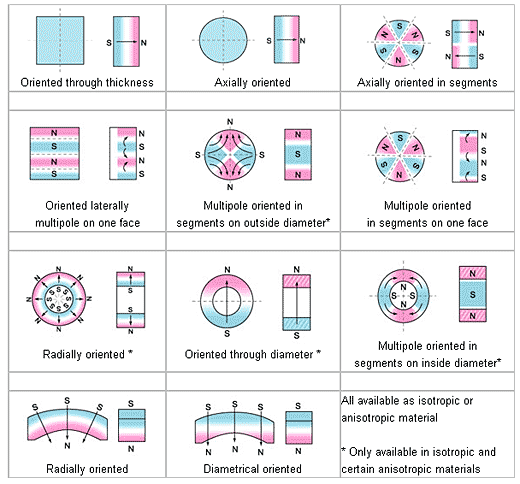 Sintered NdFeB Magnet Production Flow Chart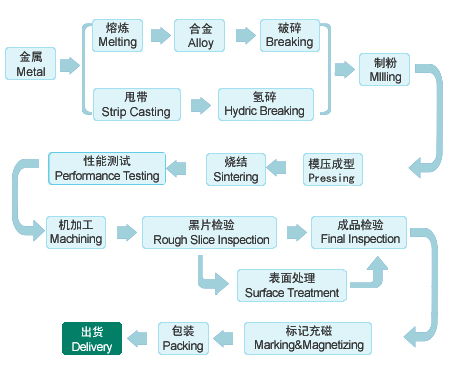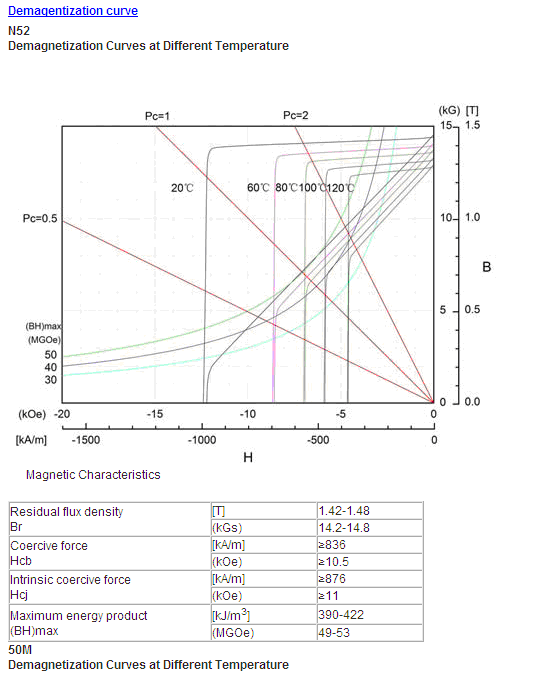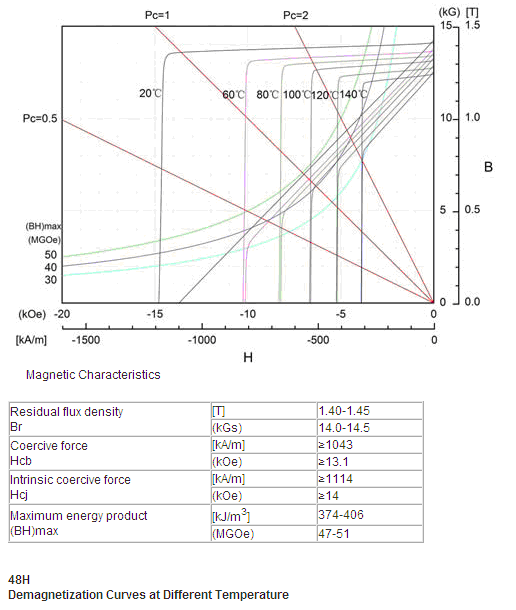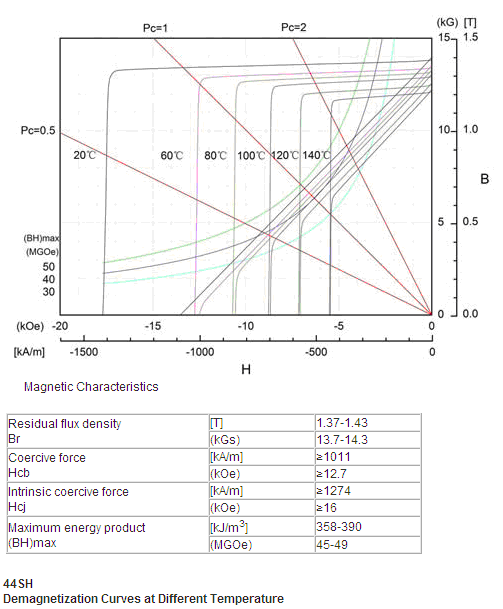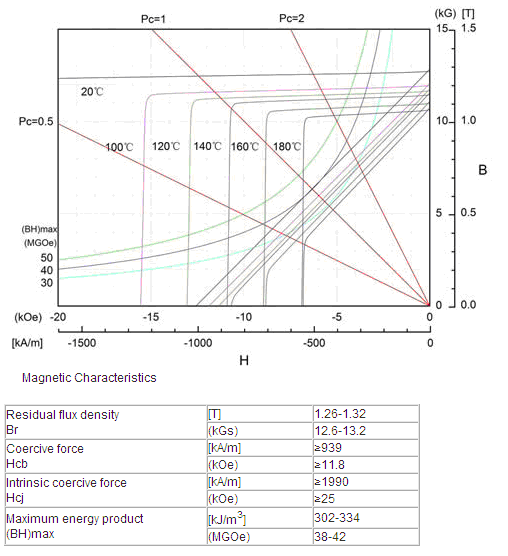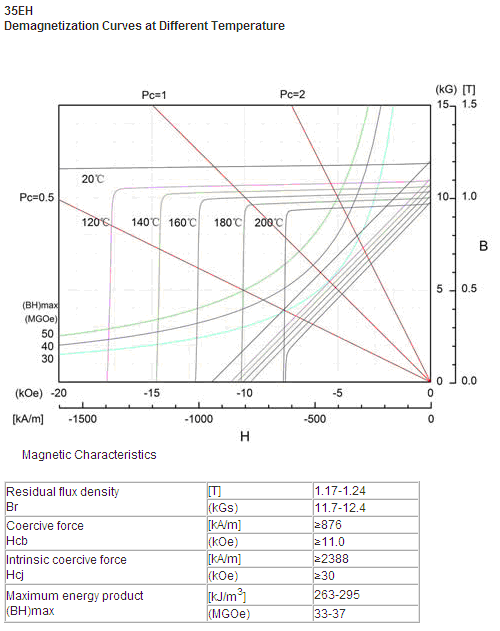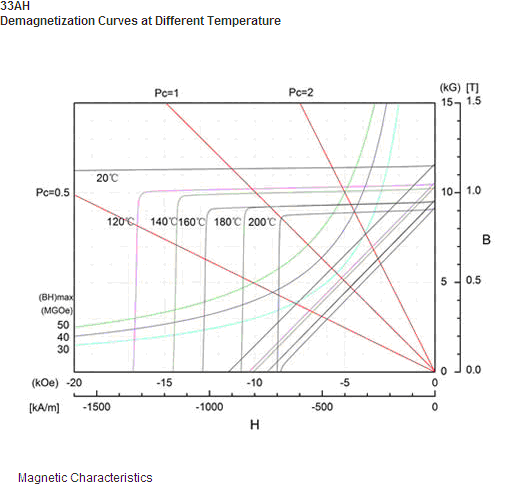 Magnetic Properties of Sintered NdFeB Magnet:
Magnetic Properties of Sintered NdFeB Magnets

Grade

Remanence

(Br)

Coercive Force

(HcB)

Intrinsic Coercive Force

HcJ

Max.Energy Product

(B-H) Max

Max

Operation

Temp. ℃

mT

KG

KA/m

KOe

KA/m

KOe

KJ/ m3

MGOe

Tw ℃

N30

1080-1130

10.8-11.3

≥ 796

≥ 10

≥ 955

≥ 12

233-247

28-31

80 ℃

N33

1130-1170

11.3-11.7

≥ 836

≥ 10.5

≥ 955

≥ 12

247-271

31-34

80 ℃

N35

1170-1220

11.7-12.2

≥ 868

≥ 10.9

≥ 955

≥ 12

263-287

33-36

80 ℃

N38

1220-1250

12.2-12.5

≥ 899

≥ 11.3

≥ 955

≥ 12

287-310

36-39

80 ℃

N40

1250-1280

12.5-12.8

≥ 907

≥ 11.4

≥ 955

≥ 12

302-326

38-41

80 ℃

N42

1280-1320

12.8-13.2

≥ 915

≥ 11.5

≥ 955

≥ 12

318-342

40-43

80 ℃

N45

1320-1380

13.2-13.8

≥ 923

≥ 11.6

≥ 955

≥ 12

342-366

43-46

80 ℃

N48

1380-1420

13.8-14.2

≥ 836

≥ 10.5

≥955

≥ 12

366-390

46-49

80 ℃

N50

1400-1450

14.0-14.5

≥ 796

≥ 10.0

≥ 876

≥ 11

382-406

48-51

60 ℃

N52

1430-1480

14.3-14.8

≥ 796

≥ 10.0

≥ 876

≥ 11

398-422

50-53

60 ℃

30M

1080-1130

10.8-11.3

≥ 796

≥ 10.0

≥ 1114

≥ 14

223-247

28-31

100 ℃

33M

1130-1170

11.3-11.7

≥ 836

≥ 10.5

≥ 1114

≥ 14

247-263

31-33

100 ℃

35M

1170-1220

11.7-12.2

≥ 868

≥ 10.9

≥ 1114

≥ 14

263-287

33-36

100 ℃

38M

1220-1250

12.2-12.5

≥ 899

≥ 11.3

≥ 1114

≥ 14

287-310

36-39

100 ℃

40M

1250-1280

12.5-12.8

≥ 923

≥ 11.6

≥ 1114

≥ 14

302-326

38-41

100 ℃

42M

1280-1320

12.8-13.2

≥ 955

≥ 12.0

≥ 1114

≥ 14

318-342

40-43

100 ℃

45M

1320-1380

13.2-13.8

≥ 995

≥ 12.5

≥ 1114

≥ 14

342-366

43-46

100 ℃

48M

1360-1430

13.6-14.3

≥ 1027

≥ 12.9

≥ 1114

≥ 14

366-390

46-49

100 ℃

50M

1400-1450

14.0-14.5

≥ 1033

≥ 13.0

≥ 1114

≥ 14

382-406

48-51

100 ℃

30H

1080-1130

10.8-11.3

≥ 796

≥ 10.0

≥ 1353

≥ 17

223-247

28-31

120 ℃

33H

1130-1170

11.3-11.7

≥ 836

≥ 10.5

≥ 1353

≥ 17

247-271

31-34

120 ℃

35H

1170-1220

11.7-12.2

≥ 868

≥ 10.9

≥ 1353

≥ 17

263-287

33-36

120 ℃

38H

1220-1250

12.2-12.5

≥ 899

≥ 11.3

≥ 1353

≥ 17

287-310

36-39

120 ℃

40H

1250-1280

12.5-12.8

≥ 923

≥ 11.6

≥ 1353

≥ 17

302-326

38-41

120 ℃

42H

1280-1320

12.8-13.2

≥ 955

≥ 12.0

≥ 1353

≥ 17

318-342

40-43

120 ℃

45H

1320-1360

13.2-13.6

≥ 963

≥ 12.1

≥ 1353

≥ 17

342-366

43-46

120 ℃

48H

1370-1430

13.7-14.3

≥ 995

≥ 12.5

≥ 1353

≥ 17

366-390

46-49

120 ℃

30SH

1080-1130

10.8-11.3

≥ 804

≥ 10.1

≥ 1592

≥ 20

223-247

28-31

150 ℃

33SH

1130-1170

11.3-11.7

≥ 844

≥ 10.6

≥ 1592

≥ 20

247-271

31-34

150 ℃

35SH

1170-1220

11.7-12.2

≥ 876

≥ 11.0

≥ 1592

≥ 20

263-287

33-36

150 ℃

38SH

1220-1250

12.2-12.5

≥ 907

≥ 11.4

≥ 1592

≥ 20

287-310

36-39

150 ℃

40SH

1250-1280

12.5-12.8

≥ 939

≥ 11.8

≥ 1592

≥ 20

302-326

38-41

150 ℃

42SH

1280-1320

12.8-13.2

≥ 987

≥ 12.4

≥ 1592

≥ 20

318-342

40-43

150 ℃

45SH

1320-1380

13.2-13.8

≥ 1003

≥ 12.6

≥ 1592

≥ 20

342-366

43-46

150 ℃

28UH

1020-1080

10.2-10.8

≥ 764

≥ 9.6

≥ 1990

≥ 25

207-231

26-29

180 ℃

30UH

1080-1130

10.8-11.3

≥ 812

≥ 10.2

≥ 1990

≥ 25

223-247

28-31

180 ℃

33UH

1130-1170

11.3-11.7

≥ 852

≥ 10.7

≥ 1990

≥ 25

247-271

31-34

180 ℃

35UH

1180-1220

11.8-12.2

≥ 860

≥ 10.8

≥ 1990

≥ 25

263-287

33-36

180 ℃

38UH

1220-1250

12.2-12.5

≥ 876

≥ 11.0

≥ 1990

≥ 25

287-310

36-39

180 ℃

40UH

1240-1280

12.5-12.8

≥ 899

≥ 11.3

≥ 1990

≥ 25

302-326

38-41

180 ℃

28EH

1040-1090

10.4-10.9

≥ 780

≥ 9.8

≥ 2388

≥ 30

207-231

26-29

200 ℃

30EH

1080-1130

10.8-11.3

≥ 812

≥ 10.3

≥ 2388

≥ 30

223-247

28-31

200 ℃

33EH

1130-1170

11.3-11.7

≥ 836

≥ 10.5

≥ 2388

≥ 30

247-271

31-34

200 ℃

35EH

1170-1220

11.7-12.2

≥ 876

≥ 11.0

≥ 2388

≥ 30

263-287

33-36

200 ℃

38EH

1220-1250

12.2-12.5

≥ 899

≥ 11.3

≥ 2388

≥ 30

287-310

36-39

200 ℃

28AH

1040-1090

10.4-10.9

≥ 787

≥ 9.9

≥ 2624

≥ 33

207-231

26-19

230 ℃

30AH

1080-1130

10.8-11.3

≥ 819

≥ 10.3

≥ 2624

≥ 33

223-247

28-31

230 ℃

33AH

1130-1170

11.3-11.7

≥ 843

≥ 10.6

≥ 2624

≥ 33

247-271

31-34

230 ℃